Slates [32x32px orthogonal tileset by Ivan Voirol]
I'm proud to finally present you my latest big project!
Two years ago, I looked back to my old uploads, and found that some of them could be improved with what I had learned. And so I started to remake my old Basic Map. I used the same patterns, but re-arranged them, re-colored them, and added a significative quantity of new assets to add more life to them. Here's a little peak at the evolution:

It really took me a long time. I tried to improve the palettes, and hope that all the tiles and textures are now better matched :

I also spent a lot of my time on animations :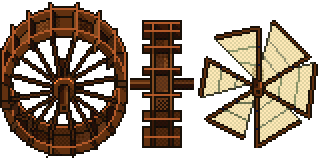 This tileset is orthogonal, and is as much as I could manage, modular. These tiles are meant to be put on top of each other, and combined to create detailled environments. You'll find trees, fences, stairs and pontoons, columns, signs, and much more.
Finally, considering the fact that this tileset doesn't come with characters, I would recommend you to use 16 x 24 px characters, like those drawn by PixElthen, or those, or the one in Zelda-like tilesets and sprites. Fun fact, 16 x 16 px characters can be used to create kids!
If you have comments, please give me your opinion!
Copyright/Attribution Notice:
File(s):

Slates [32x32px orthogonal tileset by Ivan Voirol].png 341.6 Kb [

4529

download(s)]

Slates v.2 [32x32px orthogonal tileset by Ivan Voirol].png 448.9 Kb [

4257

download(s)]

Slates - palettes.png 3 Kb [

3472

download(s)]