Thursday, November 21, 2013 - 10:36
Old:
New: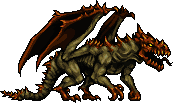 Hi guys,
this is my entry for the 'Make it quick' challenge.
Based entirely off of Redshrike and Surt's awesome dragon sprite which can be found here.
The animation is still a little rough as I only had the hour to complete it, however I may try and inprove this after the competition has ended (will probably forget to do this).
Animation plays as 0 -> 1 -> 2 -> 1
EDIT:
Now that the competition has ended, I have added the updated files, enojy! 
Thanks,
Scribe 
Attribution Instructions:
Please credit Redshrike and Surt for the original work. Optionally you can also credit me as either Scribe or Daniel Stephens. A link back to OGA is also always appreciated