Isometric Tile Starter Pack - brickpavers2.png
Friday, April 27, 2012 - 15:58
The authors of this content agree to license it under later versions of the licenses they selected above.
File(s):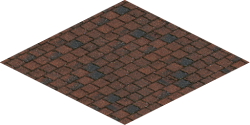 brickpavers2.png 62.3 Kb [

91

download(s)]
Texture Pack Description:
This pack is designed to be a starter set for a variety of isometric games, it contains ten seamlessly tilable isometric ground textures which I made from source images from burningwell.org.  All of the source images were taken by  by titus tscharntke except for concrete368 and cretebrick970 which were based off images taken by Georges Grondin. These images are a minimum of 256x128, i realise this is larger than most people need, however I figure scaling down is easier than scaling up.
 The tiles included are:
Brick pavers
Concrete Slab
Large Concrete Bricks
Dirt
Sandy Dirt
Rocky Ground
Stone
Grass
Dark Grass
Snow
 As always, if you use these I'd love to hear about it! :)