Crates of the Future - ab_crate_d_sm.png
Friday, April 27, 2012 - 15:58
The authors of this content agree to license it under later versions of the licenses they selected above.
File(s):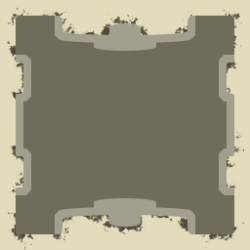 ab_crate_d_sm.png 16.9 Kb [

172

download(s)]
Texture Pack Description:
Everyone's favorite video game meme, the crate - now in future clothing! Textures designed to be used on simple block brushwork and inspired loosely by Mass Effect.
Comes in brown and blue. All textures include normal map and specular map.
All textures made for UFO: Alien Invasion. See the WIP map where they are used.
* Pack includes textures only. Preview only shows it on model to show normal/specularity map *
Texture Attribution Info:
As of 2013-08-18, I have relicensed this file under the public domain. Credit is always appreciated, but unlimited use of this file is permitted.