Majestical - mjst_metal_beamwindow_specular.png
Thursday, June 19, 2014 - 11:29
The authors of this content agree to license it under later versions of the licenses they selected above.
File(s):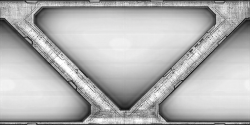 mjst_metal_beamwindow_specular.png 509.7 Kb [

16

download(s)]
Texture Pack Description:
"high definition" re-paintings of low-res textures that were originally designed by Randy "ydnar" Reddig and Adam Foster. Suitable for futuristic alien sci-fi space stations and the like consists of a base wall panel, 2 bulkhead variants (one opaque, one with glass windows) and a thin metal trim texture, all in PNG with normal and specular maps, and alpha where applicable.