(avoid the germs, hunt the gems #1 DOORS (source textures) - _MG_2813.jpg
Monday, March 24, 2014 - 13:41
The authors of this content agree to license it under later versions of the licenses they selected above.
File(s):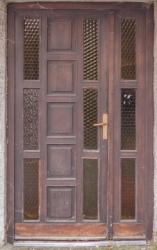 _mg_2813.jpg 2.2 Mb [

5

download(s)]
Texture Pack Description:
A colletion of different door source photos to make textures from. Residental, industrial, garage, new, old, ...
Most of them require editing, some are quite bad and are included to maybe serve as a reference. But I believe there are a couple of gems here and there.
- 
Texture Attribution Info:
If you wish, you can credit me as 'paramecij'. Or just mention OpenGameArt.org somewhere.