U.S. Government No Trespassing Sign - sign_usnotrespass.png
Friday, December 27, 2013 - 20:36
The authors of this content agree to license it under later versions of the licenses they selected above.
File(s):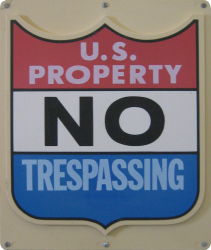 sign_usnotrespass.png 1.6 Mb [

65

download(s)]
Texture Pack Description:
A photograph of a U.S. Government No Trespassing sign.  In use by the U.S. Coast Guard.
Texture Attribution Info:
Credit Brian MacIntosh if desired.