Vintage Playing Cards - 3.png
Sunday, January 6, 2019 - 11:06
The authors of this content agree to license it under later versions of the licenses they selected above.
File(s):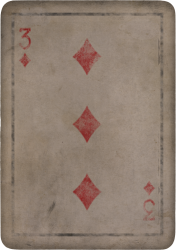 3_0.png 1.7 Mb [

1

download(s)]
Texture Pack Description:
Needed to create a set of vintage playing cards for a scene and I couldn't find any good textures online. Decided to dig in a create my own! Hopefully someone will find this and not have to spend three hours making it all :P
There's a template Photoshop file if you want to add your own card faces to the vintage/grungy background or create your own card back faces. 
My Artstation: https://www.artstation.com/treyramm