Unofficial LPC Wood Iron Shields
Wednesday, August 24, 2022 - 07:55
"LPC characer not included, but you can find it at https://opengameart.org/content/lpc-medieval-fantasy-character-sprites"
This is an entirely new set of shields. 21 of them to be exact!
Inspired directly from Raymond Eternal who made these from my barrel / bucket design.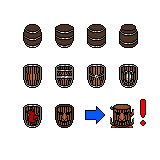 Made through mixing and mashing different variations of the bottom and top shapes together. Excluding the completely round one. Also some look better than others.
Personally I won't be making any animations for this or try putting them to match LPC Spritesheet. Even though I really enjoyed expanding these into something nice.
I highly welcome someone out in the world though to pick up where this has stopped. Even if that means editing these to make new shield types or color variations to different icons or designs on them. Since they are around originally 24x24 but not all being exactly that. Many have a good amount of space for details.
I can only hope some of you enjoy this.
Copyright/Attribution Notice:
Credit: Joshagibby, Raymond Eternal/Raymond Hermisa. The shields are originally inspired and modified from a modification by Raymond Eternal.
File(s):

wood_iron_shields_by_themselves.png 5 Kb [

44

download(s)]