Terraformed Mars Map - Terraformed Mars 2229_0.jpg
Sunday, August 26, 2018 - 18:12
The authors of this content agree to license it under later versions of the licenses they selected above.
File(s):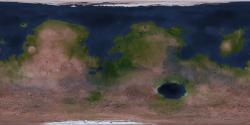 Terraformed Mars 2229.jpg 1.9 Mb [

345

download(s)]
Texture Pack Description:
A map of the planet Mars with sea level just below the datum and semi-realistic vegetation. Extra: Animated gif of the planet rotating.
Based on the Viking orbiter's map and the incredible HRSC MOLA blend heightmap.
I've also created this 3D model of Mars with exaggerated features that's based on the same heightmap data.