Sunny and Strata Tilesets
Thursday, August 19, 2021 - 01:33
A year and a half ago, I was contacted by a coding enthusiast who started working on a game using my Slates tileset. I was quickly impressed by it and wanted to help him, and as I regularly gave my opinion on his latest updates, I began working on graphical assests to fit the project. The project was getting more and more ambitious, thanks to his coding and my drawing. It was the first time I worked on video game with someone and I loved it, it was very exciting.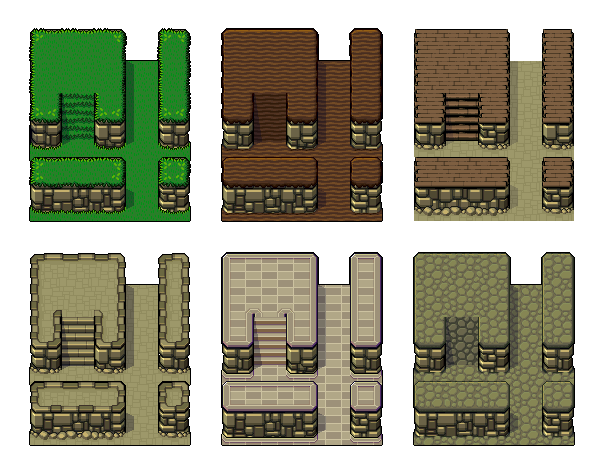 But as for every project, time was the real test, and after a couple months of collaboration, events led us to abandon the project. I'm still very grateful for the good times spent on it, and all of what I learned thanks to it. I won't reveal anything about the game here, because I still hope to get the opportunity someday to try again making it, and because as long as it doesn't exist, it's something I share with that friendly and creative coder I met on this website.
I then had this unfinished (yet very ambitious) tileset on my hands, without purpose. So I reduced its scale (both figuratively and literally) and tried to make it as if it was finished, to finally release it and let people use it on projects of their own. I changed the name from Strata (which surely will be the name of my next tileset) to Sunny, and went from 32px tiles to 16px.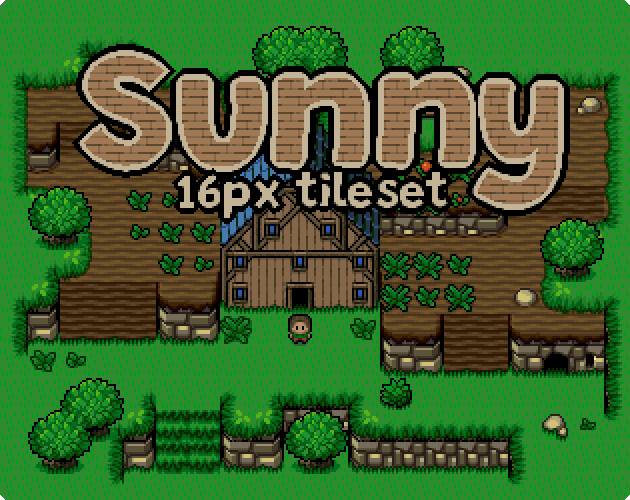 You can now buy Sunny on itch.io and try the demo I uploaded here, but this post isn't about this tileset. I mean, buy the tileset if you like it and want to use it, but I wanted to take the opportunity to thank this community for everything it brought me.
I first started working with Pixel Art to design the flag of my guild on Ragnarök online, and as I found myself enjoying that a lot, I carried on. I then found OpenGameArt, and posted most of my work here. Here, the community gave me confidence and advice to help me improve my work, which was the only thing I really needed, it gave me support. I believe that beyond offering free assests, the best aspect of OGA is its community.
So I wanted to try to give something back. So I'm giving here every version of the Strata tileset (v1 to v6) which contains many different textures and animations (and how they evolved with the revisions and improvements), and will asnwer every question about it for the people struggling with tileset making. And by the way, Strata is compatible with LPC assests.
Tanks again !
Copyright/Attribution Notice:
These asset packs can be used in any non commercial project You may modify the assets as you wish. These asset packs can be used in any commercial project, resold/redistributed, even if modified. Credits required (Ivan Voirol - https://ivanvoirol.itch.io/)