Handpainted Rock Walls - ReflectingTheLava.png
Tuesday, January 7, 2020 - 14:38
The authors of this content agree to license it under later versions of the licenses they selected above.
File(s):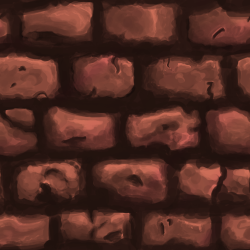 ReflectingTheLava.png 292.4 Kb [

164

download(s)]
Texture Pack Description:
Hi!
It's 1 handpainted tiled rock wall texture with 4 variations of colouring.
I started it as a doodle and didn't mean to use or share it, so the resolution is 500x500, not 512x512, sorry.
I also generated some maps (normal, height, specular, gloss, AO) in MindTex 2, but with them on it doesn't look like a wall anymore. More like a really messy floor:D
Due to small size would fit nicely in something like isometric RPG (the whole thing was inspired by Hero-U Rogue to Redemption graphic style).
Hope you like it!:)
Check out my other free stuff here:
https://opengameart.org/users/illin