Hand Painted Stone Path Texture - Rocky Floor 1_SPEC.png
Friday, September 8, 2017 - 00:08
The authors of this content agree to license it under later versions of the licenses they selected above.
File(s):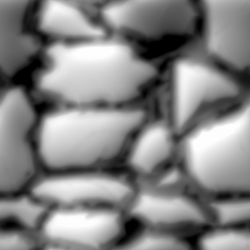 Rocky Floor 1_SPEC.png 304 Kb [

139

download(s)]
Texture Pack Description:
NOTICE! CLICK HERE TO SEE ALL TEXTURES!
Hand painted stone path texture. This texture along with the texture posted afterwords were planned to be bundled together in a bigger texture/model collection to be sold on the Unreal Engine marketplace. I put a heavy amount of detail into both to assure quality, but dropped the project and let them lay around for some time on my hard drive. Have at it, but please give credit.
The latter four images are displacement, normal, occlusion and specular maps respectively.