Brick Wall - brick_wall_0.png
Wednesday, November 22, 2017 - 16:18
The authors of this content agree to license it under later versions of the licenses they selected above.
File(s):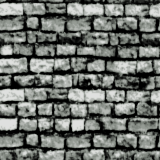 brick_wall.png 53.4 Kb [

299

download(s)]
Texture Pack Description:
This texure is modified from Stone Brick Wall Golgotha: stone1512.jpg. It has been filtered to give it a cartoonish look & re-colored with a red hue. Reworked for Stendhal.
Licensing: Creative Commons Zero (CCO). No attribution required.
Related tilesets:
Notes: